Over the course of a few years, it's easy to build up a lot of clutter (or maybe junk) that we never use and, in all likelihood, will never use again.
Common examples are clothes, dated electronic equipment, and children's toys that haven't seen the light of day in years.
Unneeded possessions such as the aforementioned are generally known as clutter and something to be avoided if at all possible. This is an especially important issue if you are moving house in the near future.
We become attached to things we've had for many years and struggle to actually dispose of them when they have outlived their usefulness. This is not only unhealthy but can also be expensive when it comes to moving house.
After all, is there really any point in transporting junk and clutter to a new property?
No. If you are moving from Ipswich to another part of QLD or even another part of Australia, you might need to hire a skip bin to finally lay those unneeded possessions to rest once and for all.
A skip bin hire Ipswich homeowners can count own is not particularly hard to find, and the company owners will be more than happy to drop you a skip or even two to help you declutter and move to a new house in one fell swoop.
The Relocation Checklist
Aside from hiring a skip bin, you may also need to hire or buy some boxes or packing crates for the things that you are not discarding. Be sure to separate the unwanted items from the needed items.
What a nightmare it would be if you were to arrive at your new house with all the junk boxed up and the essentials disposed of.
The size of the skip should also be considered, if you have just a few items, it may be worth hiring the smallest skip bin available but, if you have been at your current property for a number of years, you may need a bigger one or even two. One for the house and one for the garage and garden.
You will, of course, need to organise all of this well in advance of your moving date. Don't get emotional about your old junk. Just think logically about it and throw it into the skip, you'll thank yourself for it in the end.
Personal Correspondence
Once we are in the mood for a good clear out, it is easy to perhaps discard of sensitive documents and bank letters without really thinking about it.
Keep all of these out of the way of anyone involved in helping you declutter. If they are not needed, consider shredding them or burning them. You certainly don't want them intact and laying at the bottom of the skip.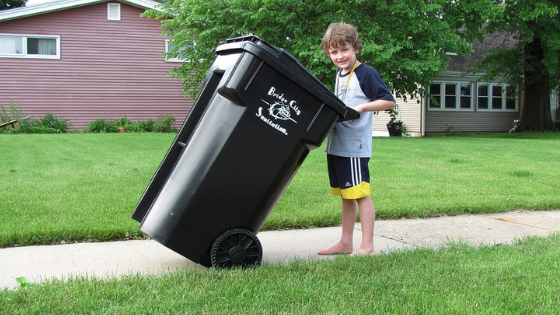 Decluttering is Good for the Soul
Many people comment that they feel much better after finally getting rid of the things they don't need. Hiring a skip bin is a cast-iron way to put your decluttering at the top of your to-do list.
Featured Image Source: Angelos Epoxy Flooring     Pin Image Source: Flickr       Final Image Source: Pixabay
This post was published in partnership with Mediabuzzer.
Don't miss our previous article on moving house: