Believe in Miracles – 365 Lessons from A Course in Miracles
I had been studying A Course in Miracles (ACIM) for about 10 years when I answered the call to teach it in March 2020.
For a year, I published one lesson a day from A Course in Miracles on YouTube (entire playlist here) and AnchorFM as the Believe In Miracles 365 podcast.
One of the main lessons I learned while studying and teaching ACIM was that we are all part of the Mind of God and therefore have nothing to fear. Our fears come up when we believe we are separate from God.
Answering the Call to Teach A Course in Miracles
Believe in Miracles Podcast
What is A Course in Miracles?
A Course in Miracles is a book that takes you through a lesson-by-lesson, day-by-day process of unlearning how you view the world and yourself so that you can start to see the world with new eyes, taking on the vision of God.
There is also text in the book (similar to Biblical text) but I found the text a lot more complicated to understand than doing the lessons.
The book is based on the Biblical Christ-like principles of love and forgiveness, and to me, it is like an extension of the Bible, written centuries later by Helen Schucman.  I believe it was autodidactic writing and that God's voice came through her onto the page.   This may sound strange to some but to me, it makes perfect sense that God is still speaking to us and through us.
And for me, the Course (as some people refer to it) drew me closer to God and helped me recognize the God within.
Believe in Miracles – How ACIM Transformed My Life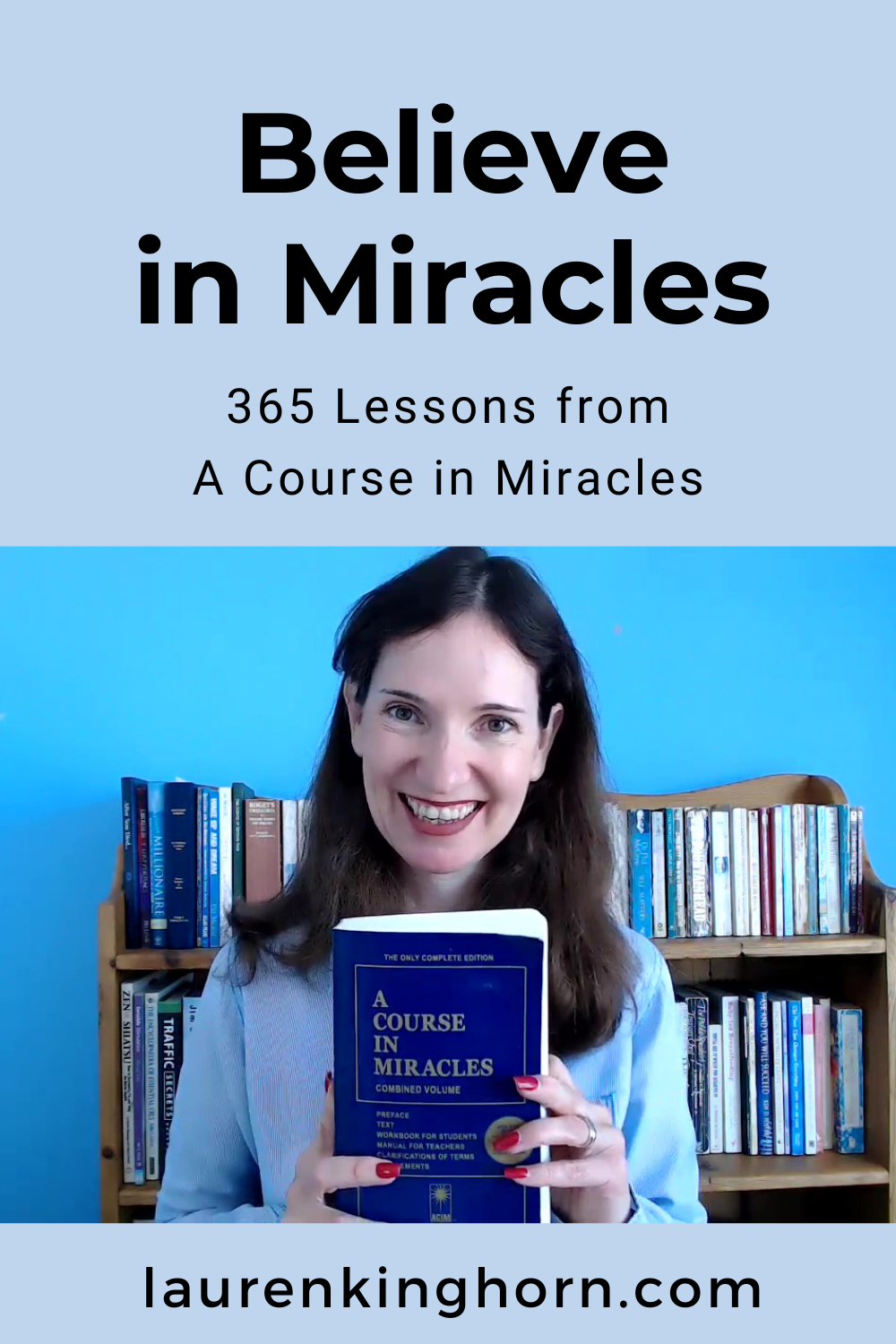 Interesting things happened to me while I was teaching these lessons.
For one, in a time when the world was gripped by fear in the midst of the Covid-19 pandemic, I had no fear.  I felt completely safe and held in God's love.
For another, I never knew I could be this consistent online, creating and publishing a video and podcast daily.  This must have been God working through me.
A few months into my journey, I felt led to make a radical change in my lifestyle.  I started eating a wholefood plant-based (almost entirely vegan) diet.
Although not all those who study or teach A Course in Miracles are vegan or plant-based, this felt like something I personally was being called to do.
You can read more about my transition to wholefood plant-based here.  It's been a lot easier than I expected and eating healthily has led to further health and lifestyle changes like daily meditating and exercising and cutting down on alcohol.
Friends and clients started coming for bodywork treatments again.  I started easing back into Aromatherapy, Reflexology, Reiki, Quantum Touch, and EFT (Emotional Freedom Technique).  People started asking me to coach them or help them work through their challenges.
And this evolved into me creating a new personal brand and becoming a Transformation Coach.  I worked with Tammy Collins, an award-winning Brand Strategist, who helped me uncover long-forgotten dreams and desires, get crystal clarity on my mission, vision, and values, and identify the tone and personality of my new brand.
To free up my time to do coaching, I handed over most of the work I had been doing daily to a Virtual Assistant.  This happened very smoothly and organically as my Content Writer, Elize Swanepoel was happy to take on new responsibilities in my online business. She now publishes and shares posts as well and she's doing a fabulous job.
These were some of the changes that happened in my life while teaching ACIM, but I can't predict how your life will unfold if you were to embark on this fascinating inner journey.  It's a deeply personal experience and miracles are different for everyone.
Where to Start with A Course in Miracles?
So, where do you start?  It starts here, with the introduction to A Course In Miracles.
This is a course in miracles. It is a required course. 
Only the time you take it is voluntary…
The course does not aim at teaching the meaning of love, for that is beyond what can be taught.
It does aim, however, at removing the blocks to the awareness of love's presence,
which is your natural inheritance.
The opposite of love is fear, but what is all-encompassing can have no opposite.
This course can, therefore, be summed up very simply in this way:
Nothing real can be threatened.
Nothing unreal exists.
Herein lies the peace of God.
It's Who You Become
Over the year, you become more Christ-like, more loving. This piece on "What am I' explains it beautifully.
I am God's Son, complete and healed and whole, shining in the reflection of His Love.
In me is His creation sanctified and guaranteed eternal life.
In me is love perfected, fear impossible, and joy established without opposite.
I am the holy home of God Himself.
I am the Heaven where His Love resides.
I am His holy Sinlessness Itself, for in my purity abides His Own.
You can find more I Am Affirmations from A Course in Miracles here.
Do You Believe in Miracles?
To answer this question, it's important to understand how miracles are defined in ACIM.
What is a Miracle?
A miracle is a correction.  It does not create, nor really change at all.  It merely looks at devastation and reminds the mind that what it sees is false… 
It paves the way for the return of timelessness and love's awakening, for fear must slip away under the gentle remedy it brings. 
A miracle contains the gift of grace, for it is given and received as one…
Forgiveness is the home of miracles.  The eyes of Christ deliver them to all they look upon in mercy and in love.
Perception stands corrected in His sight and what was meant to curse has come to bless.
Each lily of forgiveness offers all the world the silent miracle of love. 
And each is laid before the Word of God, upon the universal altar to Creator and creation in the light of perfect purity and endless joy…
Miracles fall like drops of healing rain from Heaven on a dry and dusty world, where starved and thirsty creatures come to die. Now they have water. Now the world is green.  And everywhere the signs of life spring up, to show that what is born can never die, for what has life has immortality.
So, do you believe in miracles?  You will when you offer them, by offering your forgiveness. By blessing the world with your grace.  Your love. Your light.
As you do so, you will see the world change before your eyes.   As you see the world, it will be.
Amen.