Affordable Bathroom Remodel Ideas
Any home improvement project can be a pricey affair, but it is a worthy expense to increase the value of your home. Kitchen and bathroom remodels are among the most expensive home improvement endeavours. Yet it's often bathrooms and kitchens that sell a home, so if you're looking at adding value, this is usually the first place to start.
Related: Taking Care of the Essential Repairs Before Selling a House
Here are 6 affordable bathroom remodel ideas that could bring down some of the costs significantly when you are on a budget.

6 Affordable Bathroom Remodeling Ideas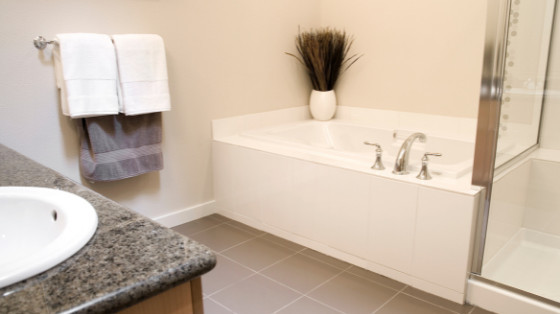 1. Limiting Your Tiles
Tiles are expensive, particularly when you are hiring a contractor to install them for you. To save on costs, you can limit the number of tiles used and only emphasize high-impact areas such as the floor.
You can also consider adding one horizontal strip on the wall and painting the remaining areas. If you want to add pricey artistic tiles, you can use them as accent pieces alongside cheaper tiles.
2. Redoing, Instead of Purchasing New
Replacing an old shower or tub can be quite expensive. Why not consider having it professionally inclined which is a cheaper option.
Avoid using this option for shower fixtures and the sink since it will be more expensive to refinish them rather than simply replacing them. Refinishing such fixtures is pricey because few individuals consider this unless they have vintage or old pieces. Contractors that offer this service often ask exorbitant prices.
Replacing your tub surround is an excellent way of enhancing the look of your whole bathroom, and it is much more affordable than completing a complete bathroom upgrade. Nowadays, you get durable and attractive virgin acrylic tub surrounds which are mildew and mould resistant. They are also available in various styles and colour choices.
3. Saving on Counter Tops
A well-liked trend for bathroom upgrades is splurging on granite countertops. Since a bathroom counter is small, the costs are very low as opposed to adding kitchen counters, for instance. You can save on countertops by first looking at the colour. Neutral colours such as brown, light beige, and tan are the most popular which means they will be pricier.
To save some money, you need to look at a broader swath of colours. Another viable way of saving on granite countertops is by purchasing slabs that contain imperfections. The more noticeable the imperfection, the lower the price will be. Bear in mind that the sink basin will take up surface area, therefore if the imperfection is situated where the faucets or sink will be, then you will not even notice the imperfection anyway.
4. Painting
If you have a limited budget, then repainting is the most cost-effective, and perhaps most efficient way of sprucing up the appearance of your bathroom. Be careful though, it might be a more time-consuming project. Even though the bathroom is the smallest room in the home, it needs to be painted slowly around the shower, window, mirror, tub, sink, switch plates, wall corners, toilet, and the floor. This involves patience and time, so consider this when you're planning your bathroom remodel.
You also need to think about moisture. Since mildew and mould develop quite easily in bathrooms due to frequent temperature and humidity changes, it is worth spending more cash on high-quality paint that has a satin finish. You might also need to paint the ceiling with special paint that is mould resilient.
5. Upgrading Fixtures
The smaller details make all the difference. You can upgrade sink faucets, light fixtures, drawer pulls, and towel racks at a relatively small price. These items might seem trivial, but upgrading them can make a huge impact on your bathroom's appearance.
6. Freshening Grout and Caulk
Another frequently overlooked, yet essential detail is caulk and grout. When it gets grimy it looks unsightly. By merely cleaning the grout and adding clean, straight lines of caulk around the sink and tub, you can add sparkle by spending a few more dollars.
Conclusion
I hope this post about 6 affordable bathroom remodel ideas can assist you with giving your bathroom a makeover but at a lower cost. Happy renovating.