Divorce, what is it? A divorce is a legal term used to describe the process by which the legal partnership of two parties (or 'marriage') is dissolved. The purpose of this process is to terminate the marriage and ensure both parties come out of the legal journey with a fair division of custody (if applicable) and financial assets.
In order to dissolve the marriage, both parties and the court must decide how to handle questions surrounding custody and placement of the children (in addition to the allocation of property and debts).
Divorce lawyers offer a wealth of experience within their respective fields and understand how stressful and emotionally taxing this time can be for their clients.
Divorce solicitors not only offer an experienced and professional approach towards every case they work with. They also adopt a personable and compassionate approach for their clients.
This perspective strives to guide individuals through the divorce to ensure the process is as simple, cost effective, and hassle-free as possible for both parties.
What to expect from the legal process
Balancing your personal commitments with the divorce can seem overwhelming for many, which is where a divorce lawyer can help!
Their professional and compassionate attitude allows them to understand how stressful this time can be. They strive to guide you throughout the process in order to make it as simple and hassle-free as possible.
The real cost of divorce
Within the field of law, the lines surrounding the cost of divorce are often blurred. This can make many individuals reluctant to seek the legal assistance of a divorce solicitor. Despite this confusion, however, the answer to 'how much does a divorce cost' actually warrants a simple answer.
Did you know?
For those individuals who are looking to complete all of the legal paperwork themselves (and therefore without seeking legal advice), they can expect to pay just one court fee of £550. Despite this, however, unfortunately, many individuals may be finding it hard to agree on the division of custody, finances, and property with their partners.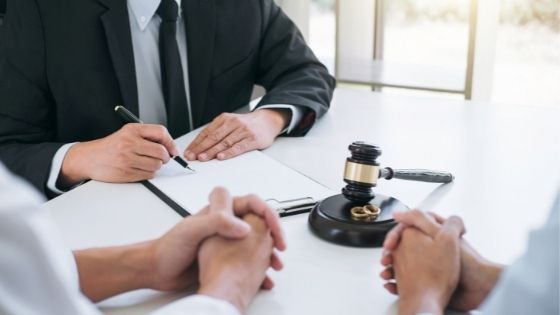 I need legal assistance, how much is it going to cost?
For many clients, balancing their work and family lives with paperwork concerns can feel overwhelming. In these cases, divorce lawyers can help. For those who do not wish to complete this paperwork alone, most firms are likely to offer a fixed fee divorce.
What is a fixed fee divorce, and how much is it?
A fixed fee divorce costs £900 (although it is important to remember that this cost may differ depending on the firm, and the individual case) in addition to the cost of VAT, and the court fee of £550.
So… Where does the confusion occur?
Where the confusion often occurs is that these fees themselves simply cover the divorce papers and the divorce papers only. They do not, therefore, cover the cost of sorting financial matters (or potentially child care arrangements, if applicable). When individuals do speak of the 'high cost of divorce' it is the legal disputes concerning these issues they are referring to.
Conclusion
Are you and your partner separated, or in the process of getting a divorce? Divorce, what is it? I hope we have cleared up some of the questions you may have had? Be sure to hire an experienced divorce attorney to help you navigate through the legalities of getting divorced and that can guide you through the entire process.