How to Start a Side Hustle
Are you thinking of starting a side hustle?
When I think Side Hustle, I think of something that you can start small, in your spare time that could turn into a real business over the years.
It's not uncommon for working Moms or stay-at-home Moms to start something on the side that they are truly passionate about and find that it develops into something awesome. Something way bigger than originally planned.  A full-on business.  An empire.  Some m
A side hustle can be just that, something you do in your spare time for some spare cash.
Or it can be the birth of your entrepreneurial journey.  
It can allow to you work from home, full-time.  Or set you free to become a digital nomad.
Either way, it all starts with YOU and your passions, your interests, your strengths.
Why start a Side Hustle?
If you're stuck in a dead-end job, bored out of your mind, you'll be looking for something that makes your heart sing, something that suits your personality.
Or you may be in the right job right now but you feel you're running yourself ragged for a boss and you're looking for something for a bit of flexibility and time freedom.
Or maybe you've just got from maternity leave and realised you'd rather be home with your baby.  You're looking for something you can do from home.
Or you're just plain done with the daily grind and the daily commute.
Or you might be where I was a year ago, you've started working on your main hustle but it's taking longer than you expected to bring in money so you try out a few side jobs for extra cash.
Whatever your reason for starting a side hustle, you're going to want to choose something you'll enjoy.  
So here's where I suggest you start.  First, find out your Wealth Profile.
Huh?  What's a Wealth Profile?
Glad you asked.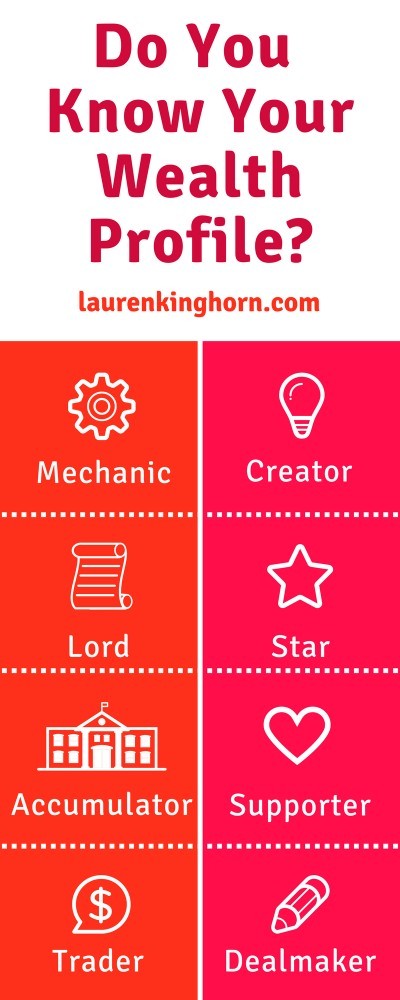 Do You Know Your Wealth Profile?
Roger Hamilton identified 8 Different Wealth Profiles and created the nifty Wealth Dynamics Profiling Test so that you can discover your own personal Wealth Profile.
The test works very similarly to any other Psychometric Profiling Test, except this one is to help you uncover which path to wealth would be best for you.
To put it simply, you'll learn what type of entrepreneur you are.  Once you are armed with this knowledge, you're going to be able to make money faster because you'll be working within your own strengths, passions and interests.
Do what you love and the money will follow.

Marsha Sinetar 
Very briefly, here are the 8 Wealth Profiles.
Creators are best at creating. They love new ideas and starting new projects.
Stars love to shine brightly or promote something or someone.
Supporters are great team leaders.
Dealmakers are matchmakers, often matching investors and opportunities.
Traders know how to strike when the iron is hot.  Timing is everything to them.
Accumulators build their wealth by building their asset base.
Lords rule quietly, behind the scenes. Their focus is on money, not people.
Mechanics create systems or franchises that work. Perfectly.
You can read more here or click here to Take the Test.
Okey dokey. Now that you know Your Own Personal Wealth Profile, you can take your pick of Side Hustles from the lists below:
---
Side Hustles for Creators
As a Creator, you are really spoilt for choice. There are so many side hustles online for those who love Creating and Inventing.
You could create Handmade Greeting Cards for:
Paper Magic Group – http://www.cssindustries.com/web/guest/paper-magic
Recycled Paper Greetings – http://www.prgreetings.com/Recycled Paper Greetings
Or Write Card Greetings for:
Blue Mountain  pay up to $300 per poem – Go to https://www.sps.com/greeting-card-guidelines-submissions
Calypso accepts written submissions as well as artwork – https://www.calypsocards.com/Submissions_ep_49.html
Photographer? Sell your Photos
Dreamstime – Make 50 – 80% profit each time your photo is sold – https://www.dreamstime.com/sell-stock-photos-images
Fotolia – 50% for each photo sold – https://us.fotolia.com/
Shutterstock – Refer uploaders, Refer buyers, Provide pictures for 25 cents per purchase (no exclusivity clause) – https://contributor.stock.adobe.com/
http://www.photostockplus.com/ – Pay you 85%
https://prime.500px.com/ – Pay you 70%
https://www.bigstockphoto.com/ – 30 cents to $3 per image
https://www.bigstockphoto.com/ – 50% plus 15% of profits for referrals plus 10% for referring other photographers
Writers could Freelance for Content Mills:
Constant Content –  https://www.constant-content.com/about/writer-guidelines.htm  – $7 to $20 per article
Text Brokers – https://www.textbroker.com/how-does-textbroker-work
Post Loop – http://www.postloop.com/
Comedy Sites
Cracked pays Writer or Artists –  http://www.cracked.com/write-for-cracked/ – pay $100 per article or artwork
Sites that Pay you to Write
Listverse – write a list – get paid – http://listverse.com/write-get-paid/ – Pay $100
Love to Know – https://www.lovetoknow.com/Careers/careers.html
Knowledge Nuts – http://knowledgenuts.com/submit-a-nut/ – $10 for every knowledge nut
Bloggers and Content Writer's can:
Or find freelance jobs on:
Job Boards: https://problogger.com/jobs/
http://snipsly.com/ – write short articles (only 150 words) – 80% of Adsense Revenue
---
Side Hustles for Stars
If you're a budding Music Star, you might want to rate music at:
Slice the Pie – https://www.slicethepie.com/ – 2 to 20 cents per review
Hit Predictor – http://www.hitpredictor.com/
Music XRay – http://www.musicxray.com/ work your way up from 5 cents to $1 per review (the more you work, the more you earn)
Into Advertising and Promotions? 
Come up with Slogans – http://www.namingforce.com/
Create and Sell Videos:
Both Creators and Stars may love this one.  Make High-Quality Videos you expect to go Viral and sell them to:
http://www.break.com/
https://www.youtube.com/ – Make money on Advertising
http://official.dailymotion.com/en/ – Make a higher cut on Advertising but to a smaller audience
http://www.metacafe.com/ – Earn 5 times what you can on You Tube
Or Rent Out Your Videos:
https://www.brightcove.com/en –  Post videos or self-shot movies for rental for minimum $1 and earn 70% of the Revenue
Either Rent or Sell Videos on Amazon Instant via https://www.createspace.com/
For Social Media Influencers:
Viraliti – Are you a Pinterest Influencer?  Viraliti is a  way to monetize your Pinterest account.
http://paidpertweet.com/ – up to $5 per Tweet
https://www.loop88.com/pinners/ – Pin what they tell you to and get paid (previously Pin Booster)
https://sharemagnet.com/account/signup/ – Like It, Share It, Earn Cash, Share on Facebook, Twitter, Pinterest and other favourite social media platforms.
https://sponsoredtweets.com/  – We connect influential content Creators with the world's biggest brands.
http://twitpub.com/ – convince followers to sign up to a Premium Feed and earn 80% – sign up to sell tweets or buy tweets
http://gen.video/ – influencer marketing on Video
---
Side Hustles for Supporters
Sites that pay you to Tutor: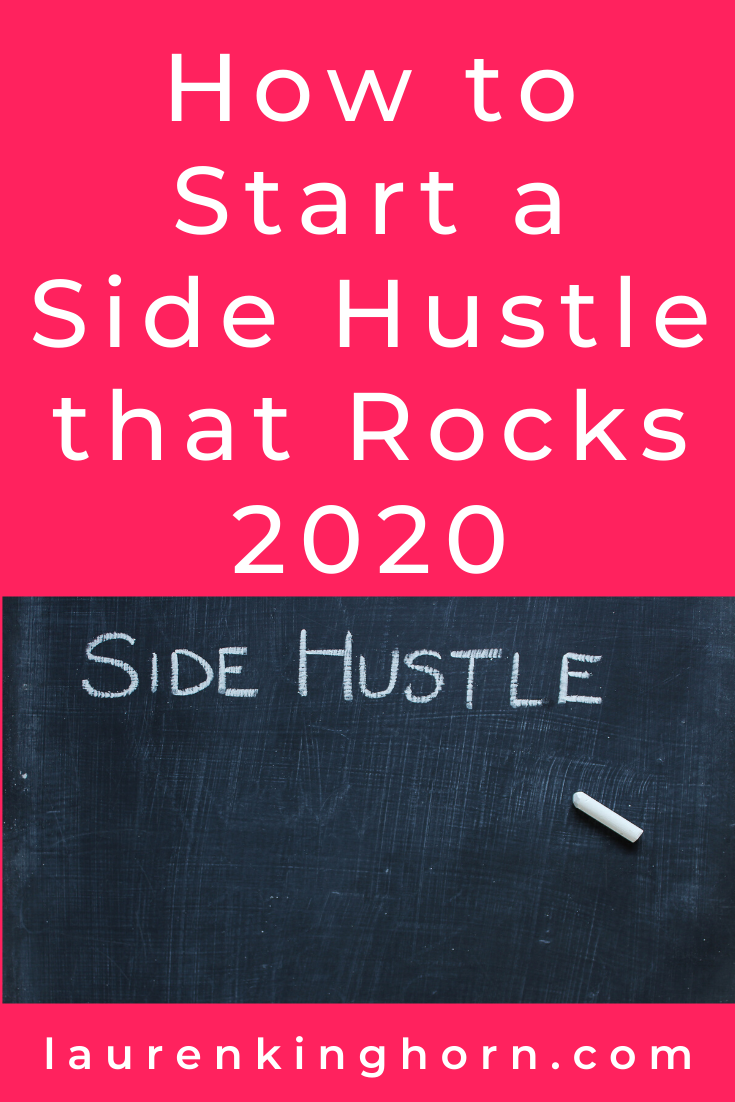 For Peer to Peer Tutoring: https://buddyschool.com/
Happy Tutors:  http://www.happytutors.com/  (there is a cost to be listed)
Tutor Hub (UK only) : https://tutorhub.com/ (paid per minute)
Verbal Planet:  https://www.verbalplanet.com/tutorhome.asp
Psychic?
https://www.keen.com/give/advice.asp – Paid for Psychic Advice (not accepting new listings at the moment)
Or Have Knowledge you'd Like to Offer Others?
https://www.maven.co/  – Become a Maven Micro Consultant "Everyone knows something"
Sites that Pay You Write Reviews:
Review anything on Review Stream – https://www.reviewstream.com/writereview.php – Write Reviews – get paid $2 per review plus 10 cents for votes
Review Software – http://www.softwarejudge.com/ – limited to 3 reviews a day.  $1 per review, popular reviews up to $50
---
Side Hustles for Deal Makers
Deal Makers might enjoy this one:  Get paid for your opinion
Become a Mock Juror:   
https://www.onlineverdict.com/  (only for US citizens over 18)  (20 to 50 minutes reviewing each case, pay $20 to $60 per case)
http://www.ejury.com/jurors_signup.html   – $ 5 to $10 per review
Sell Your Used Laptops or Phones:
https://www.bestbuy.com/site/misc/best-buy-trade-in/pcmcat133600050011.c?id=pcmcat133600050011
https://www.amazon.com/b?ie=UTF8&node=9187220011
http://www.nextworth.com/
http://www.cashyourlaptop.com/
http://www.quicklaptopcash.com/
http://www.sellalaptop.com/
---
Side Hustles for Traders
Online Trading – You might want to start out by checking out these sites:
https://www.nerdwallet.com/blog/investing/the-best-online-brokers-for-beginners/
https://www.thebalance.com/top-online-stock-trading-sites-3140818
https://www.reviews.com/online-stock-trading/
https://www.stocktrader.com/online-stock-brokers/
What if you just want to play games for a living?  These might suit Traders who just want to have fun and don't mind taking risks:
Games of Chance:
Cash Dazzle – http://www.cashdazzle.com/ – Play Spin and win
Lala Loot – http://www.lalaloot.com/
Play and Win (UK) – https://www.playandwin.co.uk/
Exodus 3000 – http://www.exodus3000.com/
Pogo – http://www.pogo.com/
World Winner by GSN – https://www.worldwinner.com/ – may also suit Accumulators
Know a lot about Finance And Investment?
Share your Knowledge at Seeking Alpha – this could work for Traders or Accumulators
https://seekingalpha.com/page/become-a-seeking-alpha-contributor – Earn up to $500 per article
---
Side Hustles for Accumulators
If you're an accumulator, and you've accumulated a lot of books, here are a couple of places to sell them:
https://www.sellbackyourbook.com/
http://www.ckybooks.com/
Accumulators may also enjoy this side hustle. 
Get paid to be a Mystery shopper:
A Closer Look – Become a Mystery Shopper (North America Only)  – https://insight.a-closer-look.com/ShopperApplication-Start.aspx
A Customer's Point of View – Become a Mystery Shopper – http://www.acpview.com/mystery-shopper-application/
Shoppers View – Become a Mystery Shopper – https://shoppersview.com/shoppers/ – includes work from home with telephone mystery shopping
Anonymous Insights – http://www.a-insights.com/shoppers.html
Mystery Shoppers Inc – http://www.mystery-shoppers.com/shoppers/
Secret Shopper – https://www.secretshopper.com/info/shoppers/ShopperIntro.asp – worldwide
Field Agent – https://app.fieldagent.net/  – make money with your phone
Swagbucks – https://www.swagbucks.com/
---
Side Hustles for Lords
If you're an Expert in anything, you can get paid for your Expert Opinion:
https://www.experts123.com/
https://www.justanswer.com/ – Doctors, Lawyers, Vets etc. – make $5 to $25 per response
Small Biz Advice – http://www.smallbizadvice.com/
Virtual Bookkeepers
https://www.accountingdepartment.com/
This game is definitely for the Lords among us:
http://secondlife.com/ – Anything you can do in real life you can play online
Exodus 3000 – http://www.exodus3000.com/
Lords might also make great Virtual Bookkeepers
https://www.accountingdepartment.com/
---
Side Hustles for Mechanics
If you're an expert in anything, you can get paid for your expert opinion:
https://www.experts123.com/
Mechanics also Make Very Good Affiliate Marketers. Start here.
Of course, once a Mechanic has mastered the basics, they will more than likely want to start their own Affiliate Program:
Read this post first: https://moz.com/blog/roll-your-own-affiliate-program
https://www.affiliationsoftware.com/
https://www.leaddyno.com/how-to-start-an-affiliate-program/
https://www.crazyegg.com/blog/how-to-start-an-affiliate-program/
---
Retired?
How about trying?
Bingo Zone: http://www.bingozone.com/
Enjoyed this post?   Then you'll love the book I just bought for only $3.44 in the Amazon Kindle Store.   It's AWESOME!!
501 Free Sites You Can Use To Earn Extra Money by Money Pantry
I found most of these Side Hustle ideas in this book and there are so many more.
Over to You
Which side hustles have you tried?
And have you ever started a side hustle and found it turned into your main hustle?
Do let me know if you try any of these. I'd love to know how they're working out for you.