Bathroom Remodel Ideas 2020
Keeping your bathroom trendy and contemporary is going to require a bathroom remodel every so often.
Thankfully, whether you have a small or large bathroom, there are some easy bathroom trends you can incorporate to give your bathroom a makeover to make it look splendid this year.
Use these bathroom remodel ideas and you will have your guests gasping in awe.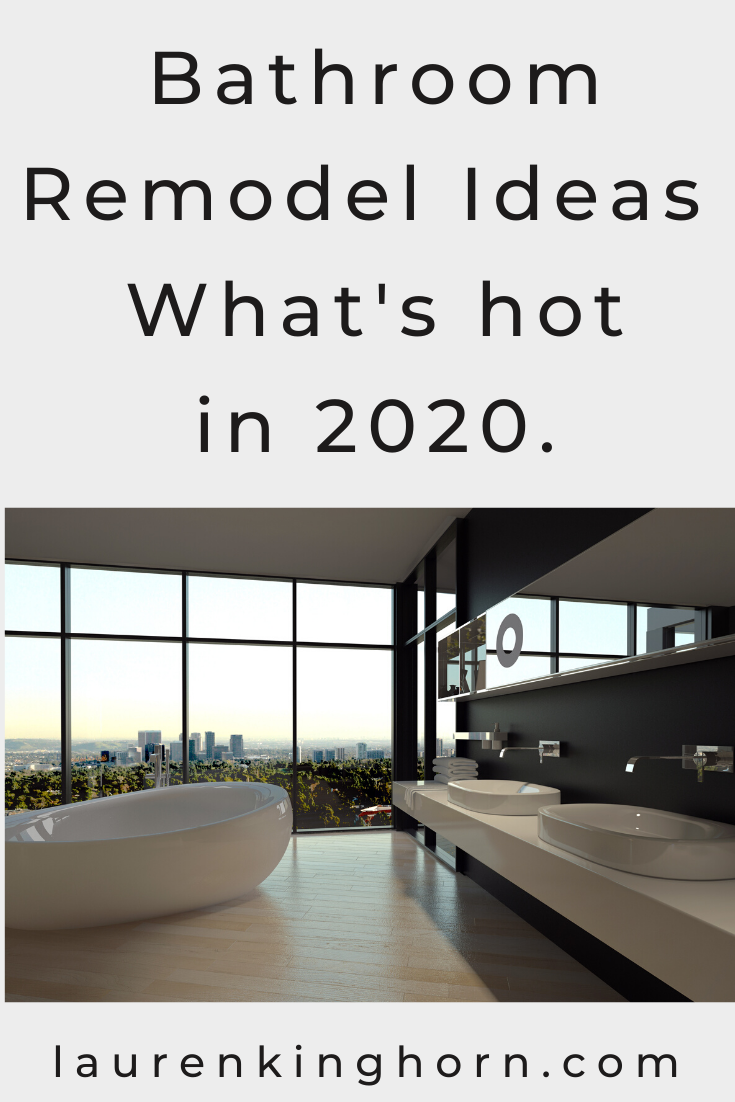 Waterfall shower with snowy light colour enunciations
This is not a fresh concept since many homeowners love the idea of transforming their bathroom into a spa. However, waterfall showers can make this dream become a reality.
This fixture creates a small waterfall in the shower that, when paired with a corresponding accent like natural stone or white light and when attached to a circular tub, resembles the look of a natural waterfall.
The white accent helps to accentuate the waterfall effect.
Other shower upgrade ideas for a bathroom remodel includes building wall niches to store all your shampoos, soaps and toiletries or replacing the tiles to give your shower a fresh new look.  Design your dream shower with Kohler Luxstone.
Freestanding sinks and bathtubs
One timeless bathroom favourite that never goes out of style is a freestanding sink or bathtub since they match most bathroom decors with ease.
Whether you're looking for an innovative look with stone resin or something a little more on the traditional style like copper or clawfoot, fixtures like these amplify the value of your home and maintain their value over time.
His and her personal vanity mirror
A popular and practical décor option for many bathrooms is two sinks instead of one. With a duet vanity set up, two members of the household can easily prepare and share a bathroom with fussing since there is ample space for both and space for individual items.
The mirror is typically the standout centrepiece, and your focus should be on creating a stylish and classy look that is accentuated by the vanities.

Bold colours
To add vibrancy to this space doesn't necessarily mean you have to add new cabinets or sinks. In many instances, it could be as simple as repainting the bathroom or replacing old worn-out colours for something more trendy, vibrant and noticeable.
A common option is lime green which gives a bathroom that Summer-feel, while black and white are back in vogue as well.
Blue blends well with more waterlogged spaces, while orange can add more depth and warmth to the room. The world is your oyster and you can experiment a little to see what appeals to you.
Energy-saving light bulbs
When you have sconces, chandeliers and other personalized fixtures installed to provide vibrant lighting, it is worth looking into bulbs that are more energy-efficient and that lasts longer.
Almost all light fixtures nowadays can be fitted with energy-saving globes which is beneficial not just to the environment, but also your budget.
Water-efficient toilets
With more people focusing on saving water and adapting more environment-friendly initiatives, installing a water-efficient toilet is a trend that is gaining popularity.
The water bill savings amount to a few dollars a year, every bit helps, and you are still reducing the total amount of water that is used, which can make an impact on your sewer bill long-term.
Conclusion
We hope you've found our ideas helpful and have given you some inspiration for your upcoming bathroom remodel.
Remember, a bathroom remodel doesn't have to be an exhausting and stressful endeavour.
You can have fun, let your creativity flow and transform this space into a relaxing and functional space where you can unwind after a hard day's work and take a lingering bath to relax your muscles and free your mind from everyday stress.