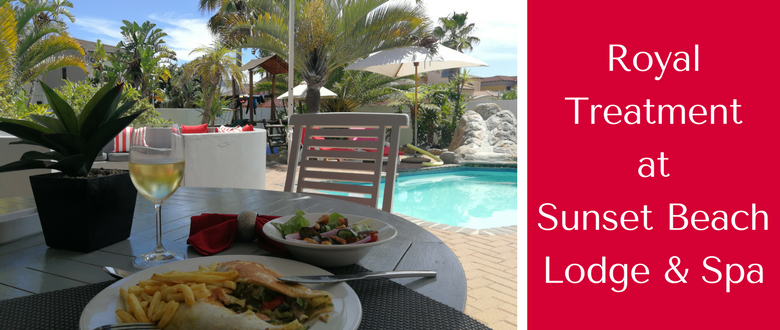 We got such brilliant value for money at our first Spa day this year that I found it tricky finding another Spa in Cape Town with Day Spa Packages with competitive pricing. Everything seemed to be way out of my price range. That was until I decided to look closer to home.  I googled…
Spa Sunset Beach Cape Town
And to my surprise and delight, I discovered that my very closest Spa, Sunset Beach Lodge and Spa, was offering amazing Spa Specials.  My Mom and I popped around to chat with the Owner, Debbie and decided on this stunning Special.

Sunset Beach Lodge and Spa – Mother-Daughter Spa Package
We found a couple of Spas offering similarly priced packages but none of them offered Executive Manicures and Pedicures.  My Mom's absolute favourite treatment is a paraffin wax pedicure so a mini/express mani and pedi was just not going to do.
The closest special we found was around R800 per person (about $67) but the offer was for 4 x 30-minute treatments totally 2 hours of treatments, whereas Sunset Beach Lodge and Spa were offering 4 hours of treatments for R 775 each (about $65).  Plus this Special included lunch and a glass of wine.  What a win!
We booked immediately.  I had done my homework before we popped in so I knew we weren't going to find anything that matched this kind of value.
True Hospitality
Yet what really clinched the deal was how accommodating Debbie was.  When I started calculating the time it would take to Relax, Revive and Rejuvenate (stealing their words), I was concerned that I may not be finished in time to collect my son from School.
Debbie booked us in from 8:15 in the morning (most other Spa's start taking bookings from 9 am) so we could arrive straight after school drop-off.
Debbie also encouraged us to make a whole day of it and said it would be no problem at all if I nipped out to fetch my son mid-package.  He could play in the garden (which also has a jungle gym for children of the guests) or have a swim with us.  She even offered to get one of her staff to look after him if we were still busy in treatments when he finished school.
I'm not sure if Sunset Beach Lodge wants any of this advertised but I can tell you, it meant the world that Debbie cared enough to make this offer.
Now that is true hospitality.
No wonder Sunset Beach Lodge was one of the winners of Sanlam's TOP DESTINATION AWARD in 2017.
What was included in the Package?
Coffee/Cappuccino/Tea Before & During
1 Hour Back and Neck Massage
1.5 Hour Paraffin Wax (Executive) Pedicure
1.5 Hour Paraffin Wax (Executive) Manicure
Lunch complete with a Glass of wine AND Dessert
Spa Capacity
Sunset Beach Lodge is a small intimate Hotel with 6 Luxury rooms.  Therefore, the Spa is not massive either.  It is designed for single or couple treatments rather than Spa parties like the one we had in month 1.
At most, they could take 3 people at a time.  The Spa facilities include:
The French Room kitted out with two massage plinths and a table for manicures
Bathroom opposite with a Jacuzzi and Shower
Outdoor swimming pool in a beautiful garden
Highlights
Royal Treatment
As we arrived at Sunset Beach Lodge we were warmly greeted by Kelvin, the Manager and offered refreshments from their serve yourself counter.   We helped ourselves to coffee and water and then Kelvin picked up our bags for us and showed us upstairs to the Treatment room.
True to the byline on their Package, Mother of a Princess, Daughter of a Queen, we felt we were getting the royal treatment already.
When we walked into the French Room, we received another warm welcome from our therapists, Sasha and Shirley.  The room itself was welcoming, with lovely soft, aqua green decor and soft candlelight.
Expert Therapists
The ladies started with our back massages and I knew the instant Shirley started working on my back, that I was in expert hands. The massage was absolute heaven.  My Mom said Sasha's treatment was exceptional too.   We both commented on how amazing it was to have well-trained, experienced therapists massaging us again.
All elements of a brilliant massage were there:
knowledge of anatomy and physiology
soft, yet strong hands giving firm pressure and deep tissue massage when required
a varied technique, including kneading and effleurage
keen tactile awareness, working problem areas rather than just following a prescribed routine
a deeply relaxing rhythm.
All our treatments were fabulous, the ladies were professional and meticulous.  I accidentally scuffed the nail polish on a couple of toes after my treatment and Sasha patiently re-polished those toes without me even asking her.
I'm only sorry my Mom and I clean forgot to take pictures of each other when we were having our treatments. We were simply too relaxed (and probably too busy chatting).
Shirley was extremely knowledgeable and well connected in the Beauty and Spa Industry in Cape Town and we landed up exchanging shop-talk for half the morning.  She is passionate about sales and has repped for a number of prestigious Skincare lines and is currently a Sales Executive for a South African range called Vitaderm. The range sounds amazing, especially to me as an Aromatherapist, as it contains essential oils.
Interestingly, Shirley and I qualified as Therapists at around the same time, in the early 90's, so, although she looked 20-something she must be closer to my age (40-something), which she, of course, attributes to Vitaderm.
A Vitaderm Facial is definitely next on my agenda. Sold.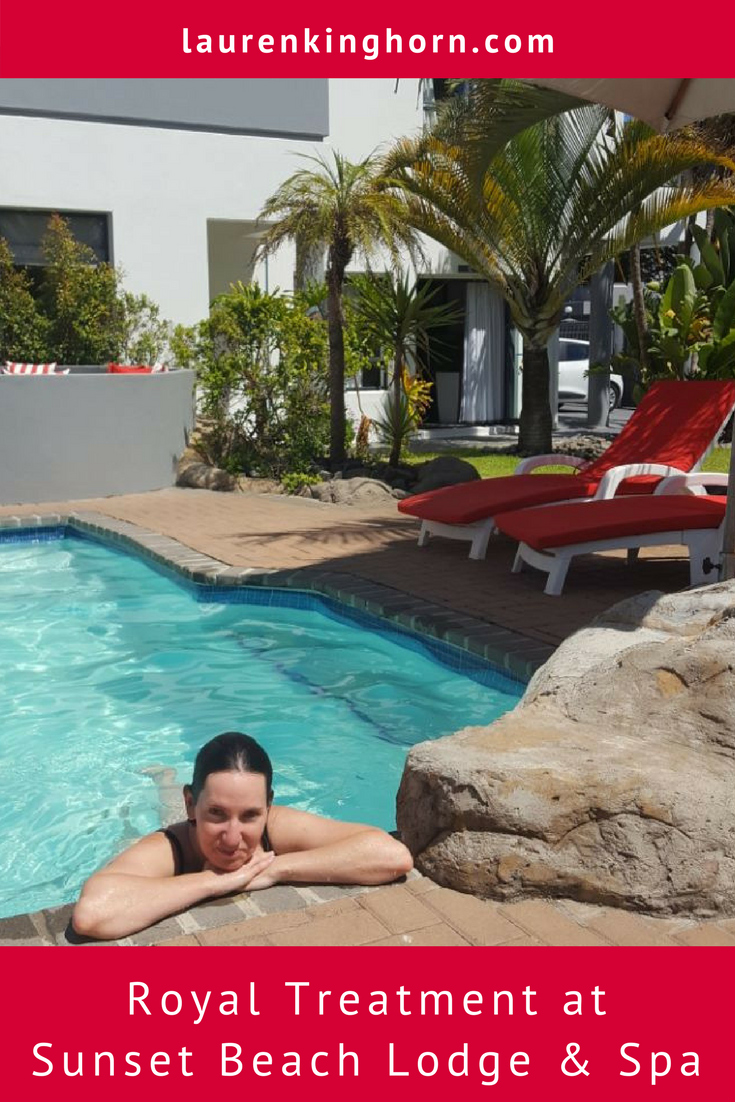 Going Above and Beyond
We wafted down to lunch after our treatments and the advertised "light lunch" turned out to be a sumptuous meal.
Debbie greeted us as we came into the lounge area and showed us into the dining room herself saying, "we've made you each a chicken wrap".
Well!  We received a delicious, very filling chicken wrap with chips AND a whole bowl of side salad each plus, of course, the glass wine we were promised AND a surprise dessert.  We were bowled over.  And very grateful because an entire morning's pampering had made us both ravenous.
So this is how the other half lives!
We finished the day having fun snapping pics around the pool which we had all to ourselves and it was a really hot, gorgeous Summer's day, so I had a quick dip too.  All in time to fetch my little guy from School.
My Only Gripe
Although there was a great range of nail polish colours and the nail polish seems very robust, they did not have my favourite colour for my toenails, fire-engine red.
My Mom and I both chose the only red polish in the range, a very deep, dark red which looked gorgeous in the bottle, but once in the sun, it seemed to turn purple.
My Overall Opinion
The entire experience, from booking – through treatments – to the surprise dessert was TOP NOTCH and I have no hesitation in giving this Spa 5 Stars.
Although I set out at the beginning of the year to try a new Spa a month, I have to say I am tempted to just stick with this one and enjoy regular monthly therapy on my doorstep.   I owe it to you, my readers to keep reviewing Cape Town's Spas, so I'll press on.
Perhaps I'll find a way to do both – have a regular treatment at my new home-from-home, Sunset Beach Lodge AND try out a new Health Spa every month.
Now there's a novel idea. Which just shows you how just a little Self Care can quickly start snowballing into regular Self Care.
Rating
✮✮✮✮✮

  Environment – Beautiful home from home

✮✮✮✮✮ 

Atmosphere – Welcoming

✮✮✮✮✮ 

Facilities –  Well-run, Beautifully kitted out

✮✮✮✮

      Products Used – Great quality, could add more Nail Polish Colours

✮✮✮✮✮

 Food and Beverages  – Plenty and Delicious, Surprise Dessert

✮✮✮✮✮

  Treatments  – Expert

✮✮✮✮✮

  Staff – Top Notch

✮✮✮✮✮

 Value for Money – Exceptional
Overall Rating: 

✮✮✮✮✮
Over to You
Have you ever stayed at Sunset Beach Lodge or tried out their Spa?
Or have you ever enjoyed a Mom-Daughter Spa Package?  What would you include in your ideal package?
Would love to hear your views or review in the comments below?