What is eCommerce Millionaire Mastery?
eCommerce Millionaire Mastery by Kevin Zhang an online course consisting of 15 modules and over 180+ videos that teaches you how to build an eCommerce empire.  You start out learning the basics of dropshipping and go on to learning how to create your own branded niche eCommerce store.
More about these later.  First, let's look into Kevin Zhang and why you should trust him to mentor you through this process.
Who is Kevin Zhang?
At the tender age of 22, Kevin Zhang made what looked like a crazy decision. He turned down the offer of a 6-figure job at a consulting firm to follow his dream of becoming an entrepreneur.
He went on to make $20 Million in his first year in e-commerce and now teaches the exact same methodology in eCommerce Millionaire Mastery.
Kevin will be the first person to tell you that it won't be easy (but it will be worth it).
Though this course is designed to give you your best chance of replicating Kevin's success, the onus will still be on each student to put the work in and be the master of their own destiny.
Kevin has been featured in Forbes, Yahoo, Thrive Global and in many other online and offline publications and podcasts.
Kevin Zhang is also a TEDx Speaker.  Here's his talk at UIUC.
Kevin Zhang TEDx Talk on Greatness
Why Should You Trust Kevin Zhang?
I took a look at reviews on TrustPilot and noticed that eCommerce Millionaire Mastery currently has 80 reviews and an overall rating of 4.6 stars.

Trust Pilot Reviews
I had a look at a few of the reviews on Trust Pilot. Here's a smattering of the recent reviews so you can see what Kevin Zhang's students have to say about this course.
I've also read a number of independent reviews by bloggers online and found similar positive ratings.
What is Dropshipping?
Dropshipping is a fulfillment process where a business owner does not stock inventory and instead works with another company (the supplier) that packages and ships the products that are ordered.
Here's an example of how dropshipping works.
Jane orders a product from your online store for $50 including shipping
You receive the order and instruct your supplier to ship it to Jane
You pay your supplier $20 for the product plus shipping of $5
You earn $25 from the sale  – your profit
The Number One Benefit of Dropshipping
There is practically no risk because you don't have to pay for inventory upfront.  Your client pays for their product, you pocket the difference.
You also don't have to handle any of the logistics, manufacturing, design, packing, shipping and in most cases, you're also not responsible for the after sales service or returns.  This all gets handled by your supplier or a logistics center.
What is Branded Niche eCommerce?
Kevin Zhang teaches you how to go way beyond a basic dropshipping store using Branded Niche eCommerce (BNE).
You start out with a central theme or niche, targeting your products and messaging to a particular audience.
For example, maybe you decide to create a dog toy store or a men's corduroy store, both of those categories are niches – and Kevin teaches you how to do that too.
There are essentially 3 steps in his process:
1. Testing the Market via Standard Dropshipping 
You start out learning to create your first branded niche store on Shopify by sourcing products from a supplier such as Aliexpress.
2. Scaling Your eCommerce Business via Private Labelling
As you start receiving more orders you can start negotiating better pricing and speed of delivery.
At this stage, you also start adding your own logo to your products and packaging.
3. Optimising Your Brand via Re-manufacturing
This is the step that changes the game completely and sets your store apart from the rest.
If you choose, you can at this stage, create an entirely new, unique range of products by taking your bestselling products and having them remanufactured to improve quality, under your own label or brand.
And the best part is, Kevin Zhang gives student access to the very fulfillment service he uses personally.
How to Build a Big Brand
When you follow this unique business model, the exact strategy responsible for Kevin Zhang's success, you enter the world of creation, rather than just competing with other dropshippers out there.
All that is required from you is to follow the lessons in the program.
This is not a "get rich quick" program. You're not going to learn how to create single product sites (or landing pages) and general dropshipping stores.
Instead, you will learn how to create a branded niche store with the exact same design features of the biggest brands in the world.  The benefit is two-fold. Not only will you generate more profit but you'll also provide more value to your customers.
eCom Millionaire Mastery Course Curriculum
You'll find eCommerce Millionaire Mastery on Teachable and the course is set out like the diagram below, with 15 modules in total.
Module 1:
Introduction to eCommerce and the Entrepreneurial Mindset
Module 2 & 3:
Branded Niche Dropshipping and Consumer Psychology
This is where you're learn to create your Shopify account, add the Oberlo app and Google Chrome plugin.
You'll also select your niche and start importing Aliexpress products into Oberlo. 

Module 4: 
Introduction – Shopify Web Design
It's now time to buy your domain and start creating product collections.
You'll learn how to edit the products within the Oberlo import list, name your products, add each product to a collection, add tags and split products by colour or style variants.
Module 5:
Shopify Web Design Mastery
Now you move onto creating your logo (or having it created by Kevin's design team – one of the perks of joining this course).
You'll also create homepage banners, collection images and start adding essential pages such as:
Terms of Service
Privacy
Shipping FAQ
Returns & Refunds
Contact Us
Track Order
About Us
Then you'll create your header navigation menu.
Module 6: 
Setting up your Facebook Account for Advertising
Now you'll learn how to:
Create your Facebook Business Manager
Set up your Facebook Business Page
Create your Ad Account on Facebook
Add your Facebook Pixel to your Shopify Store
Module 7: 
How to make Engaging and Highly Profitable Advertisements
Now you learn how to design and test ads in 3 different formats, eg.
Video
Slideshow
Image
Module 8: 
Basic Facebook Ad Strategy
In this module, you'll learn how to launch and target your Ad and set your adset Budget.
(Minimum daily budget per adset should be $15 – $5 x 3 creatives).
You'll also learn how to monitor ad performance and cut or scale ads and set up a retargeting campaign.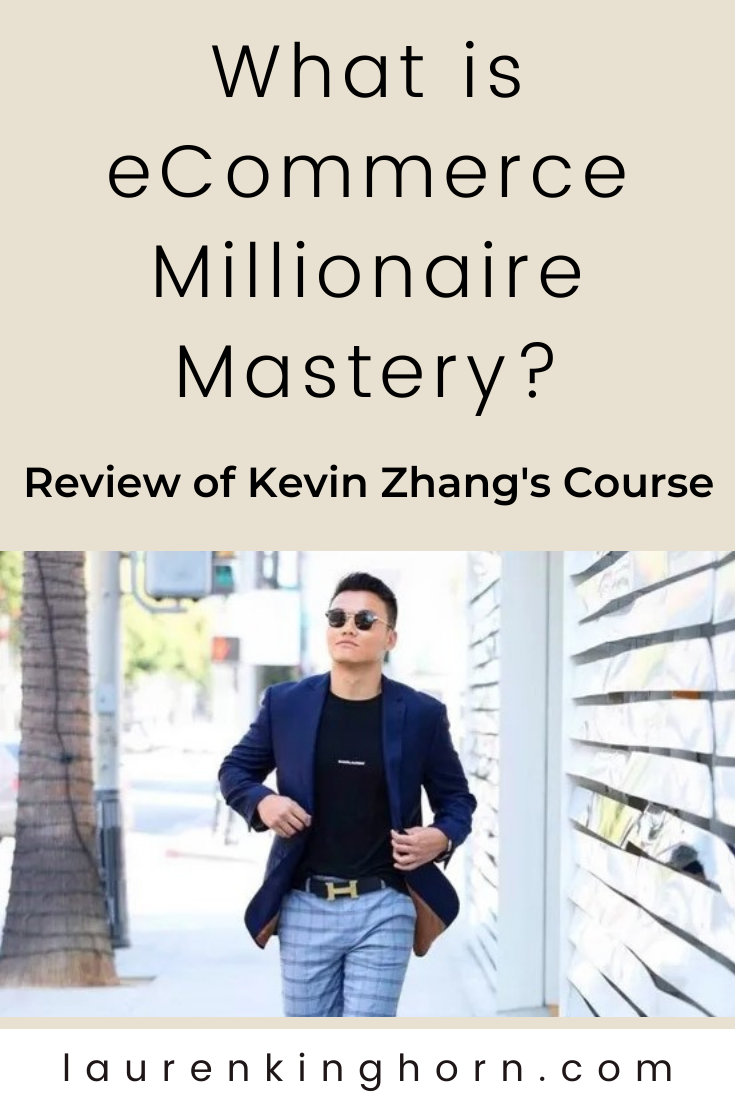 Module 9: 
Advanced Facebook Ad Strategy
At this stage, you'll learn how to implement advanced strategies as needed.
Module 10:
Effective Sales Strategies and Business Fundamentals
Here you'll establish a basic accounting practice for your store or learn how to use the OrderMetrics app.
You also may consider testing a sale (e.g. limited-time storewide sale)
Module 11: 
High ROI Email and SMS Marketing for Drop Shipping
Learn how to set up and launch a Klaviyo email marketing campaign.
Module 12: 
Multivariate Testing, A/B Testing, and Heat Maps
Now it's time to set up a heat map and conduct A/B testing.
13. Module 13: 
Setting up Bulletproof Customer Support
In this module, you'll learn how to set up your own customer support team and establish a system for handling returns.
You'll also set up G Suite and your branded domain (e.g. support@mystore.com) and set up a Google voice number for your store.
Module 14:
Keeping Your Business Alive and Out of Trouble
At this stage of the game, you'll learn how to form a business entity and ensure you're paying all taxes (sales, state and federal).
You also discuss key FTC compliance policies and and learn how to comply with Key FB advertising policies
Add "Disable Right Click" app to your store and learn to report stores stealing your work
Now is the time to transition to a high-risk payment processor.
Module 15: 
Building Advanced Infrastructure and Achieving Full Automation
In the last module of the course, you'll learn advanced scaling strategies such as:
How to outsource customer support via Upwork, negotiate better rates with your supplier.
This is when you consider private labeling your goods and remanufacturing your best selling products.
Kevin has put together a handy Checklist to help set yourself up to succeed. The checklist takes you through his program step by step, encouraging you to take action at each turn and propel yourself forward.
Facebook Group
When you enrol in this course, you also get to join Kevin Zhang's community of engaged students. Currently there are 4,100 members in this group.
The eCommerce Millionaire Mastery Facebook group is the place to get your questions answered.
Kevin Zhang, himself, answers questions in the group and there's also a supportive community of people who have taken the course and achieved success in the program.
Weekly Calls
The Facebook Group is also where you can access a weekly live call with Kevin Zhang (usually at 3pm EST every Saturday).
The live calls take place on Zoom and you can catch the replay in the units tab on the group.
Bi-Weekly Workshops
Kevin also sets up Zoom conferences twice a month with guest experts, who offer workshops to offer continuing education.
Guests who have already led live workshops include:
● CEO of Chronos Agency – Josh Chin
● Founder of Jersey Champs – Sean Kelly
● Travel Influencer – Zach Benson
● Founder of Flex Watches – Trav Lubinsky
Free Logo
Once you've finished setting up your store, you are eligible for a free advertisement created by Kevin Zhang's graphic design team.
There is also a paid option to employ Kevin's design team for any other creatives you need for your store or marketing efforts.
Awards
One of the things I found very admirable in Kevin Zhang's approach was how he rewards students who have achieved success in his program.
Kevin loves seeing his students transform their lives through his program.  Knowing firsthand the blood, sweat and tears it takes to create a successful store, he figured out a way to honor his students.
Kevin has designed the awards to celebrate milestones in a student's ECommerce Millionaire Mastery life and remind them of how far they have come.
1. First Sale
When you achieve your first sale, you'll receive a premium EMM T-shirt.
2.  Certified eCommerce Expert
Students receive a silver plaque to hang on your wall when you achieve $100,000 or greater in sales.
3. Certified eCommerce Master
Students receive a gold plaque and a private mastermind when they achieve $1,000,000 or greater in sales (Gold Plaque + Mastermind).
And… once you reach this level, you are treated like royalty.  The plaque isn't sent to you. Instead, you're flown to Kevin to join a weekend retreat and Mastermind with all 7-figure students and you will receive the plaque in-person from Kevin Zhang.
4. Certified eCommerce Legend
There's a mystery prize when students achieve $10,000,000 or greater in sales. We'll have to wait until someone achieves this level to find out but we can only imagine that Kevin Zhang will pull out all the stops for a student who achieves this level of success.
Final Thoughts
I've spoken mainly about the pros and paid very little attention to the cons of this program; I would be remiss if I didn't mention one. The main objection I've read online is that this course is expensive, at $2,000.
Those who got something out of the course, call it an investment, those who didn't say they didn't see the value.
Here's the thing though, people will pay fortunes to get the results they are looking for. And a course with the hint of a promise of $20 Million in a year (what Kevin Zhang made his first year in eCommerce), I feel is well worth the price tag.
I've seen online courses selling at this price bracket that deliver far less value and way less content. This course packs a huge amount of value with 180+ videos, plus weekly live calls, bi-weekly live interviews with guest experts and questions answered on the Facebook group by the course creator, Kevin Zhang himself.
To me the proof is in the pudding… the only way you're really going to see if this is course is worthwhile is to decide whether eCommerce is the route you want to go and if it is, do the course and give it your all. Keep at it, ask questions and engage on the Facebook group until you're one of Kevin Zhang's success stories.
This is a sponsored post. I have not completed Kevin Zhang's course as I only had access to the PDF Handbook. It gave me a good overview of the course and the rest I was able to put together through research online.