Successful Business Ideas – Women
Have you ever thought of starting your own business at home?  Katrina D. Keller highlights some excellent options for you in her guest post below.  I can vouch for the very first idea on Katrina's list as that was the route I took- blogging.  Come to think of it, I can vouch for all 4 of these ideas as I have close friends running successful businesses in line with Katrina's other 3 ideas. Which idea appeals to you?  #SuccessfulBusinessIdeasWomen
4 Home Business Ideas For Women
Guest Post – Katrina D. Keller
Women have been engaged in trade in some form or otherwise since time immemorial.  Back in those days, women were predominantly involved in cooking, sewing, kneading, tapestry, and what have you.
In present times, nothing has changed dramatically and by that, we aren't saying women aren't productive anymore or have gotten lazier. Instead, they've been advancing with more force than any time in history.
Furthermore, women have ventured into businesses or jobs that are reputable as well as generate more income. What's more important is that women have made their mark on ventures that used to be male-dominated, and in some cases, they're outperforming their male counterparts in those areas.
If you are looking to start a business or looking for a new way to make more money and if you're a Stay at Home Mom or currently employed, there are a whole lot of business ideas to choose that you can start relatively quickly and easily.
The good thing is that most of these businesses require little investment to get your feet wet. All you need is motivation, willingness to work hard and an immense desire to be financially successful.
Below are four businesses that we think are ideal because they are practical for Work at Home Moms and Home-based Women Entrepreneurs. Let's get started: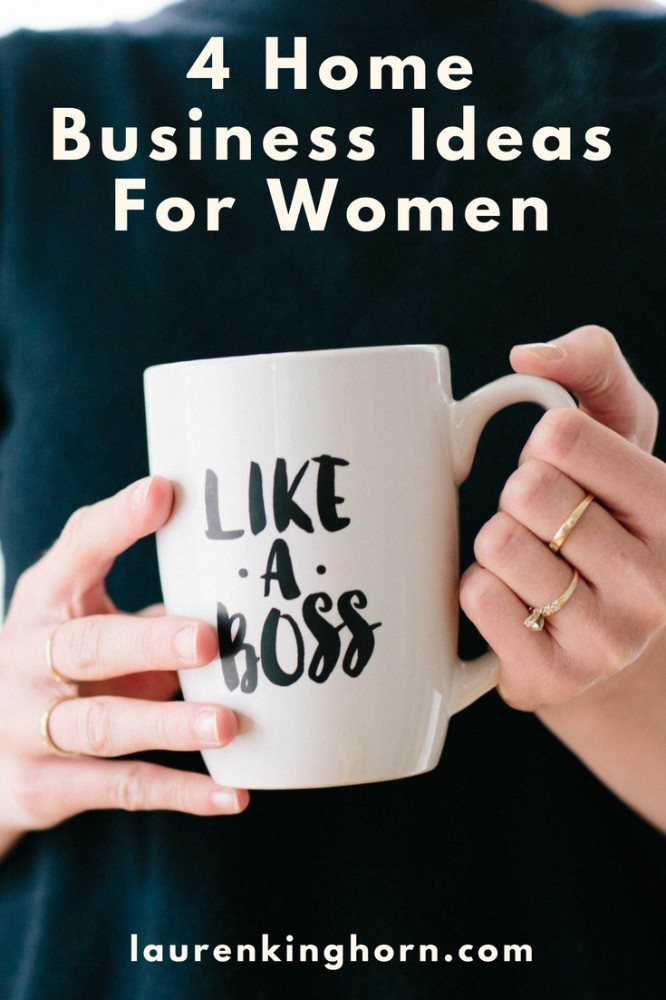 1. Freelance Writing
This is one of the easier and more profitable options for women who prefer working from the comfort of their homes.
In the last few years, the number of blogs increased significantly with many women publishing and posting to blogs. Just to give you a context, according to a 2009 study by BlogHer.com, there are over 8 million women publishing blogs.
The demand for freelance writing has increased in recent times due to the fact that many companies have realised the strategic importance of quality written contents for Search Engine Optimisation (SEO) and content marketing.
Freelance writers can write articles on a variety of topics ranging from relationship advice to buying a car. The most common way to earn revenue from blogs is through advertising programs such as Google AdSense.  Start by writing about subjects in which you're already an expert.
 2. Home Tutoring Services
Providing freelance tuition services (sign up here to be a tutor) is another great and profitable way to earn for women.
You can provide tutoring services to high school grad students for their upcoming SAT exams; give guitar or cello to young children, teach people how to make chocolate soufflé, or even teach Moms on how to make nice handcrafted gift baskets at home.
However, if you're thinking to set up this kind of services, make sure you've solid knowledge in a subject or field of study you'll be tutoring. All you need to land your first gig is to place a sign out in front of your house and let everyone in your neighbourhood know about your business.
3. Virtual Assistant Services
In the age of the Internet, providing virtual assistant services is one of trendiest home-based businesses today. Virtual assistants combine the services provided by secretarial and administrative departments of an organisation.
As a virtual assistant, you'll be performing administrative support services such as emails, word processing, event planning, researching, rescheduling meetings, and other typical office chores. The only difference here is that you're doing all of these things online in the comfort of your home, instead of in an office cubicle.
Your boss may be working hundreds of miles away from you or in a different country, and you may never have the chance to meet him or her.  In this day age, this is not an issue as all the required tasks and communication is done through phone calls, email, secured websites, or instant messaging services.
4. Daycare Centres
Generally, most Childcare or Daycare Centres are run by Women Entrepreneurs from home.
As more and more women are entering the workforce, the demand for reliable and reputable Daycare Centres for their kids has been growing more than ever.
However, before you hop on to the daycare business bandwagon, you need to comply with the licensing regulations in state or area you're living or willing to set up the business.
Also, consult with your neighbours and make them aware that you'll be running a Childcare Centre You don't want your neighbours to file complaints against your business, which may compel the authorities to shut your business down.
There you have it, four profit-making home businesses you can start you're a full-time working Mum or Stay at Home Mom.
About the Author
Katrina D. Keller is a well-known blogger who has a wide variety of interests. She is a Writer, Editor & Blogger. She is currently a blogger for https://smiletutor.sg/blog in a genuine effort to provide the best quality content to her readers. She loves reading books. When she is not working you can find her travelling or hanging out.
Which of these business ideas inspires you the most?  Or are you already running a business from home?  
We invite you to share your experiences in the comments below.