Ever heard of Imposter Syndrome?
It's that feeling of "I'm not enough, I'm not doing enough, I'm not achieving enough" – when actually you're doing great!
You feel unsuccessful when really you're successful.
Ever get that feeling that the more you learn, the less you know?
Being a Digital Entrepreneur can feel like that often because there's soooo much to learn and so many different directions you can take.
The Back Story
I'd been building my online empire for three and a half years. I had three niche websites and each of them was generating income and that income was steadily growing. Slowly, but surely.
People were inviting me to speak at their Events on Digital Entrepreneurship. I was becoming an Authority.
To my friends, I seemed to be doing well.
But I knew I could do a lot better.
There were a few things that were bothering me.
I hadn't cracked Affiliate Marketing.

I hadn't written my book.

I hadn't created an online course.

I hadn't built a tribe.

Nothing was automated. I did everything myself. Keyword research, SEO, content writing, editing, graphics, formatting, social sharing…

all me.

None of my income was passive. It was work-intensive and time-consuming.

And when I checked out my Google Analytics stats, I wanted to cry. My traffic stats were depressingly low.
I felt like a bit of a fraud. (Imposter Syndrome)
Because I knew there was still so much I didn't know. So much I still hadn't accomplished. 
And because I knew I had made some fundamental mistakes right at the start but I didn't know how to reverse them.
Some mistakes were obvious. Like creating 3 websites, instead of just 1.
But there were other mistakes that weren't obvious to me. If I couldn't even spot my mistakes, how could I correct them?
It felt like I was missing something, some big secret I wasn't in on…some special information the big hitters online knew and I didn't.
And that's when I discovered Dave's 15 Day Online Business Challenge.
And the veil was lifted. Secrets were revealed. And my mindset shifted.
On the 15-Day Challenge, I uncovered a few reasons why my traffic stats are dismal.
One was that I hadn't built an email list.  I'm working on that now.   Join my email list here.
Linked to this was that I hadn't built a tribe.  So I've started doing that on my favourite platform, LinkedIn.
Actually, I'm building two tribes.
You know… maybe Imposter Syndrome is just a modern term for good old-fashioned impatience.
Because we forget when we're learning something as VAST as online marketing that it might a,) Take Time and b,) feel a little overwhelming at times.  We're not insufficient, we just need more time to figure it all out.
This post is my task for my first day of Free Traffic Bootcamp.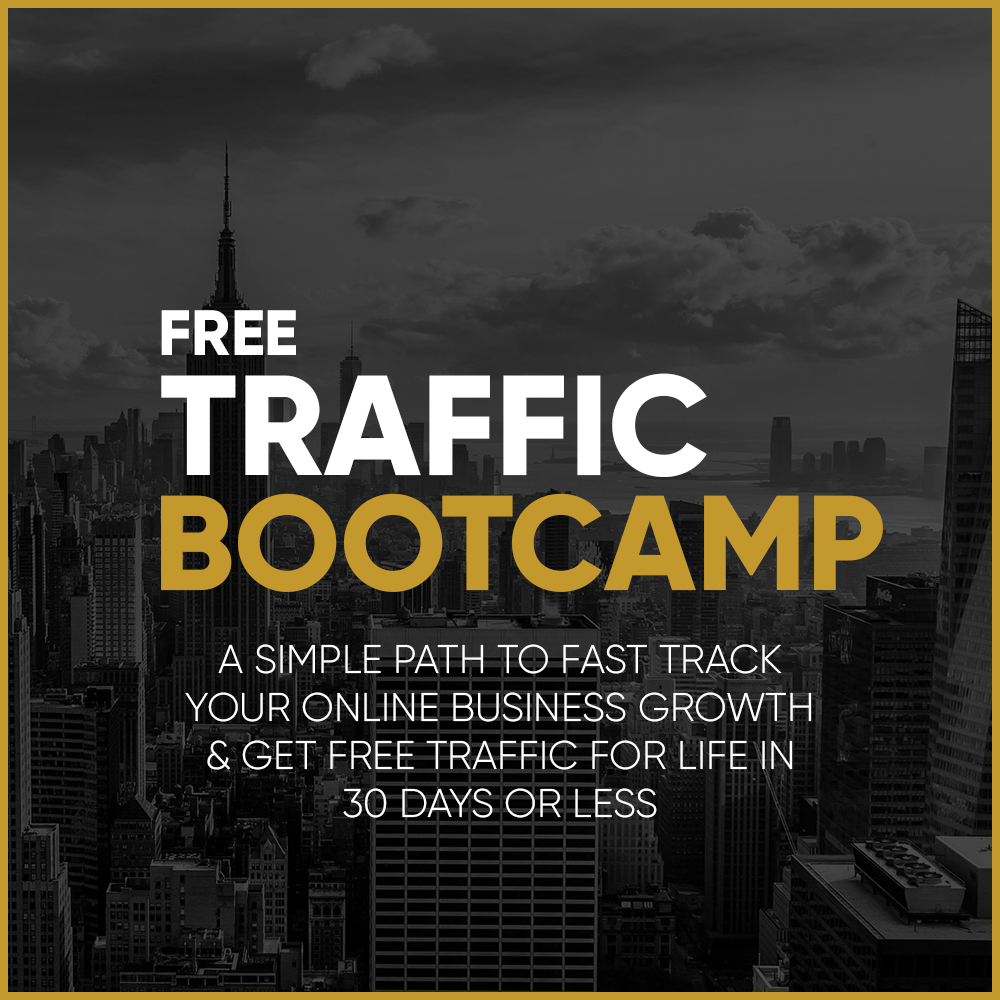 Free Traffic Bootcamp is a 30-Day Challenge.   
Over 1,200 people have joined the Challenge.
What we've got to do for 30 Days is Post Content on a high authority content site.  We've been given a Content Schedule for the 30 Days, and most Content Headlines relate to the video tutorials on the 15-Day Challenge.
For the first 15 days, we must post WRITTEN CONTENT (blog posts, +- 500 words each)
For the next 15 days, we must post VIDEOS (+- 5 minutes each)
I decided to challenge myself a bit more and create written and video content for all 30 Days.
Eeek! What was I thinking? What if I have a bad hair day?
How to Get Free Traffic for Life?
I can't wait to find out… and you?
Hope you enjoy my posts.   You can find all the content I created for the entire 30-Day Challenge here.
Next Up: How Can I Start an Online Business?  (Free Traffic Bootcamp Day 2)
* If you purchase anything through a link in this article, you should assume that I have an affiliate relationship with the company providing the product or service that you purchase, and that I'll be compensated in some small way at no extra cost to you.