8 Dimensions Health Wellness
Health and Wellness have been a big focus in my life.  I started teaching Aerobics when I still in High School and took over my Mom's gym shortly after I finished school.
A couple of years later I also started studying and practising a number of different modalities, including Aromatherapy, Reflexology and Shiatsu.   I became particularly interested in holistic health and healing.  I was fascinated by how the mind, body and spirit are all connected.
I delved deep into every aspect of health and wellness over the years because I wanted to know how every secret on how to live long and prosper.
And yet, it took Harold at Bodybuilder Solutions to introduce me to the idea of the 8 Dimensions of Health and Wellness. Have a look at this post: https://bodybuildersolutions.com/the-best-resources-for-mental-health-and-physical-wellness/
And, here they are.
All 8 Dimensions of Health and Wellness
I've placed them in the order that makes it easiest for me to remember, starting with the 4 that align with some of the chakras (or energy centres in the body).  I used their corresponding chakra colours on the infographic below.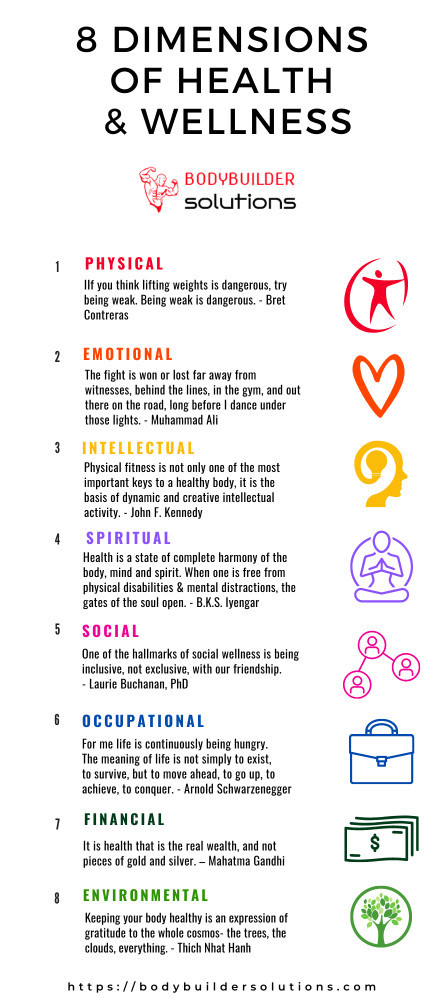 1. Physical (the base or root chakra)
2. Emotional (the sacral chakra)
3. Intellectual  (the solar plexus)
4. Spiritual (the crown)
The last 4 are not energy centres in our body but relate to aspects of our daily lives that can impact our health and wellness.
5. Social (Relationships)
6. Occupational (Work)
7. Financial (Money)
8. Environmental (Surroundings)
Related: What is Health and Wellness About?
While it's virtually impossible to be focusing on all 8 of these all the time and have them all in perfect balance, it's certainly something worth striving for.
You might put so much of your time and energy into mastering one aspect of your life that the others go out of kilter.
On the other hand, when you achieve success in one area it may give you the confidence and motivation to tackle other areas of your wellbeing.
And there is a tremendous benefit in aligning each dimension of health and wellness and feeling they are all working together in harmony. Because that's when you feel a sense of peace, satisfaction and well being.  A feeling that all is right with your world and you're doing just fine.
In this post, I'll aim to give you some of the keys I've learned over the years that have helped me achieve this alignment in my own life, in the hopes they help you too.
Let's take it from the top.
1. Physical Health and Wellness
Deep down I think we all know the answers to this. They are simple to learn, but not easy to implement.
Exercise regularly (at least 30 minutes, at least 3 or 4 times a week)
Eat nutritious foods (especially plenty of fresh fruit and veg)
Get enough sleep (6 to 8 hours a night)
Drink enough water (around 8 glasses a day)
Those are the basics.  We all know them but we get caught up in what this expert claims and what that diet promotes and what that organisation recommends.
Related: Natural Ways to Support the Immune System
Here are my personal keys to making these work for you.
Exercise
You'll only do it regularly if you love it and can incorporate it into your life. So find something you really enjoy doing. For me, right now, it's walking my dog and jumping on the trampoline with my son, because that's all I have time for.   But at other stages of my life, it's been swimming, gym, dancing, yoga, pilates.   What moves you?
Nutritious Foods
I recently went wholefood plant-based which means I mostly eat a healthy vegan diet. Though I know that's a big ask, so if this just sounds too extreme to you, please start adding more fresh fruit and veg into your diet and avoid eating overly processed foods and especially processed meats.
I have discovered it's a brilliant lifestyle choice, especially if you are overweight or have heart disease, Type 2 diabetes or any other preventable health condition.   But don't take my word for it. I'm just following the experts.
Here's a great overview of plant-based nutrition by Dr Anthony Lim
Disclaimer: Please note that none of the recommendations in this post is intended to replace the advice of your Medical Doctor. Please consult a doctor or registered health practitioner if you have any health concerns.

Sleep
Stop all digital activity, including watching TV at least half an hour before you go to sleep to have a good night's rest.
Hydration
Water or tea is best.  One or two coffees a day is fine. A glass of wine a night (or your favourite drink) is fine but don't overindulge too often.  In my book, sodas are a no-no.  I could go into the long explanation of why but then we'd never get to the rest of the post. 

2. Emotional Health and Wellness
We all want to be happy and free from anxiety, yet, sadly, most people aren't.  We live in a world where millions of people are suffering from depression, anxiety disorders, insomnia and nervous tension and have resorted to medication for relief.
There are many natural ways to be happy and free from worry and I believe it starts with choosing happiness.
Once I made a conscious decision to live a happy life, the natural ways found me.
Here are some of the things that make me feel happy and at peace.
Guided Meditation or Visualisation
Being out in nature
Being in contribution
Caring for loved ones
Playing with or reading to my children
Caring for pets
Dancing, singing or listening to music
But what about those stubborn or particularly heavy emotions you just can't seem to shake?
I've found Emotional Freedom Technique (EFT or Tapping) to be most useful in helping me release unwanted emotions.
For example, here's a tapping session I did on Disappointment.
Once you know the basics of how to EFT, you can tap on any emotion that's upsetting or depressing you.
The deeper you go, the more relief you feel, which could mean working on childhood wounds or past hurts that have stuck with you for years.
Related: How to Stay Positive During the Pandemic
3. Intellectual Health and Wellness
To be healthy intellectually, it's important to use your mind by doing things like:
reading
study
research
travelling
and other intellectual pursuits that broaden your mind
It's equally important to clear your mind of stress, worry and limiting beliefs.
I read a funny meme at a coffee shop the other day.
It said: "Give me coffee to change the things I can change and wine to accept the things I can't."
I've discovered that what causes most of our pain, suffering and stress is believing things should be different than they are.
So my best piece of advice for a happy life is to accept those things you can't change and change the things you can.  i.e. Do your own inner work.  Let go of all those thoughts about what others did or should have done, what they said or should have said.
Instead, turn your thoughts to who you are, who would like to be around and what you would like to do with your time. Be in your own business.
Again, easy to say, not so easy to do. Until you meet Byron Katie and use her simple technique to unbundle those stresses and beliefs and turn them around.
Byron Katie designed a process of questioning your stressful thoughts, called The Work.
Here's Katie doing The Work with someone on How to Have a Clear Mind and Healthy Body.
The Work is a great way to get clear on the thoughts that have been holding you back or dragging you down, sometimes for years.
I've found the best breakthroughs in my own life have come when I start out by doing The Work and then shift into EFT if big emotions come up.
These processes sound simple but they are life-altering. Try them out for yourself, especially on your most painful experiences and you are likely to see what I mean.

4. Spiritual Health and Wellness
Our spiritual journey is deeply personal and a path only we can walk. This journey is usually ignited by the religion, faith or path we have followed since childhood.  For me, that faith was Christianity and it led me to A Course in Miracles.
Learning and teaching A Course in Miracles has given me tremendous peace.
Here's one of my favourite lessons in A Course in Miracles.
Lesson 47, God is the strength in which I trust.
The spiritual perspective is that pain and suffering are caused by believing we are separate from God.
In a sense, this is the same concept Byron Katie teaches, just in different words. Where Katie might call it questioning what is or questioning the truth, on a spiritual level, when we question what is, we are questioning God.
When you draw nearer to God in…
prayer
praise
meditation
stillness
communing with nature, or
when you give love, and
forgive yourself and others..
you access your God-mind where you can safely embrace the peace that passes all understanding.

Related: Mama, When Last did You take Care of You?
5. Social Health and Wellness
Social health and wellness relates to our relationships.
We all know that if we are in an abusive relationship, whether it's a parent, partner, child, work colleague or friend, it can take its toll on our physical, mental, emotional and spiritual health.
We also know that when our children "get in the wrong crowd", their health can suffer.  Peer pressure and social pressure can drive people to do things they would never do on their own.
Just as unhealthy relationships can be devastating for our personal wellbeing, healthy relationships can turn our health around.
In my life, I've been extremely fortunate to have wonderful parents as role models.  My Dad was a Minister so I grew up in the Church. That really helped me build a strong healthy social structure within a loving community.
That foundation helped me seek out healthy role models at school and in the workplace.
It is far more difficult for children who grow up with unhealthy role models at home, to make healthy choices in their adult relationships.   This is where public service becomes important.
Our relationships with those in authority are extremely important, especially when we are younger and still building our strength and courage to stand up to authority when needed.
One amazing Grandmother, one child-centred Teacher or one caring Sunday School Teacher can change the trajectory of a child's life and make the world of difference in a community.
If we want to see a healthy society, the responsibility falls on each one of us to give back to the community in whichever way we can.
6. Occupational Health and Wellness
For me, occupational health and wellness have always started with being passionate about your work.
Job satisfaction is a huge part of your overall happiness as well as your health and wellbeing.  After all, most of us are working for the greater part of our day.
What's interesting to note is that job satisfaction seems to have increased in 2020, according to this article: https://legaljobs.io/blog/job-satisfaction-stats/.
Perhaps the pandemic is creating a happier workforce because more people have been able to work at home or perhaps it's because people value their jobs more now that so many jobs have been cut during the pandemic.
My best advice on the work front is similar to my advice on exercise. Find something you love to do, something that makes your heart sing, something that makes you jump out of bed in the morning.
Get to know your personality, your strengths, your weaknesses and be your biggest advocate.
7. Financial Health and Wellness
Our relationship with money is usually complex.
Financial wellness is not only about how you make money, spend money or save money but also how you think and feel about money.
We grow up with a number of beliefs around money and they are not always healthy.
If you faced lack in childhood and you don't address your money beliefs and money blocks, you may be facing lack in adulthood too.
So I would start by doing the internal work.
Examine your money beliefs and create new healthy beliefs.
Figure out why you want to make money
Where you want to spend your money
How much you want to keep and
Where you want to invest your money
And then you can turn your attention to the how.
If you've been hitting a few money blocks, you may find these money afformations helpful.  Afformations are much like affirmations, except they are questions rather than statements.
Isn't it interesting how all these dimensions tie-up?  When you look at one dimension, you can see how each plays into the other.
Your work affects your finances.
Your thoughts and feelings affect your finances.
Your relationships affect your finances.
Your physical health can affect your work which in turn can affect your finances, etc.
And of course, vice versa.  Each dimension of health and wellness impacts the other.

8. Environmental Health and Wellness
Your environment can affect your health in many ways.
For example, living in the city is considered more dangerous to your health than living in a small town out in the countryside. Not just because of the faster pace, traffic congestion and added stress but also because of the smog and noise pollution.
Cities bombard and sometimes overload our senses.
Your home or work environment can also affect your health. Most people find living or working gin a chaotic or cluttered environment to be more stressful than a clean, well-organized home or office.
And then there's our impact on the environment, how we contribute to the health of our environment.
We all know by now that we can make simple lifestyle changes to improve our environment:
Recycle
De-clutter
Conserve Water
Plant trees and flowers
Use natural products
Consume less (minimalism)
But did you know that the single most impactful thing you can do for the environment is to stop eating meat?
Animal agriculture is having a devastating effect on the environment.
This video explains how the meat and dairy industry works.
Here are just a few ways eating a vegan or plant-based diet, positively impacts the environment:
Saves water (because our livestock consumes a lot more water than we do)
Reduces greenhouse gases, the leading cause of climate change
Reduces air pollution
Protects the rainforests
Protects endangered animals
Of course, the choice is always yours.  It's not easy to stop doing something you've done all your life, especially if it's something you enjoy, like eating meat or cheese.
I have found that when I find enough compelling reasons to make a change, I make it.  And it sticks.
Conclusion
I hope you enjoy implementing some of my key pointers on the 8 Dimensions of Health and Wellness into your life.  I invite you to play with these ideas.
Try one or two of them on and see if they fit.  I'd love to hear which ideas resonated with you. Feel free to leave a comment below.
This post was sponsored by Bodybuilder Solutions. All opinions are my own.
Disclaimer: Please note that this article is not intended to replace the advice of your Medical Doctor. Please consult a doctor or registered health practitioner if you have any health concerns.